Opiekun took to the stage at Magnificon, Poland, to claim their place in the Crown Finals. Read on to find out more about their cosplay of Geralt from The Witcher 3!
Welcome to the competition! Can you tell us a little about yourself as a cosplayer?
Hello. My name is Dariusz, I've been doing cosplay for 9 years. I started making cosplay from when I started attending fantasy conventions. I watched all these fantastic people in the costumes of my favorite pop culture characters and I wanted to create such outfits myself, take on roles and play them on stage. I like making costumes difficult, requiring the use of many techniques, combining them. I choose each next project due to its difficult implementation (each next one must lead me higher than the previous one). Why do I love cosplay? Develops manual skills, allows me to perform on stage, thanks to the ability to create costumes, I can play on LARPs that I love, play roles.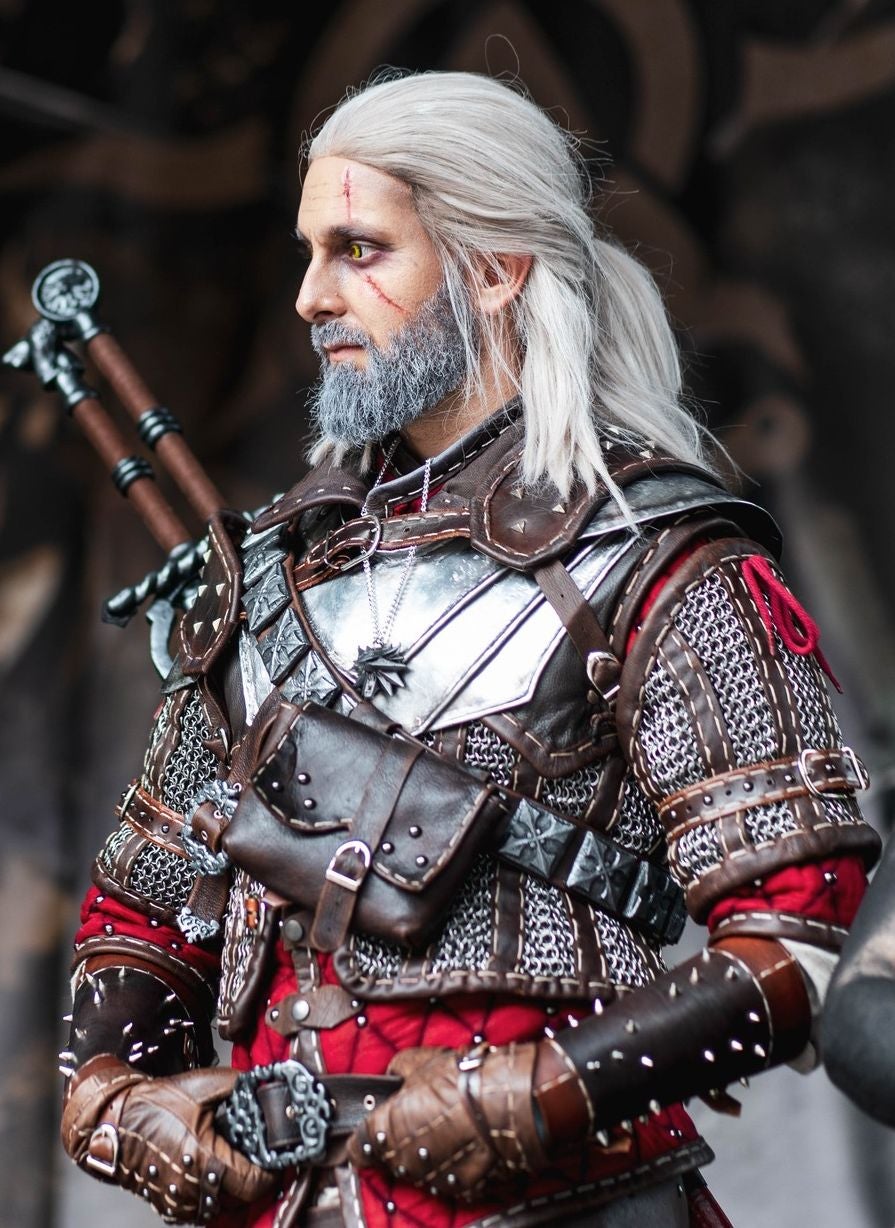 What inspired you to make your qualifying costume?
My favorite fantasy character, from my favorite created world. The character I identify with, Geralt of Rivia.
How did you create this costume?
I made my costume based on my knowledge of medieval reconstruction. As my character wears plate armor, chain mail, and leather armor, I spent a lot of time studying medieval weapons. In this I had to solve several design problems, such as attaching the sleeves of a tunic and vest, attaching swords to the back with straps.
Did you learn anything while making this costume?
New techniques that I learned during this project were chainmail braiding, leather carving, airbrushing, blacksmithing metal, building swords, names of medieval armaments.
I learned a lot of patience, it was necessary with such a detailed costume, with many hours of work with steel chain mail. In addition, I learned how heavy armor and armor were in the Middle Ages and how physically vigorous is required to wear this type of weapon.
What is your favorite part of the costume? And Why?
Swords with scabbards are definitely a favorite part of the costume. I spent a lot of time carving leather, painting and impregnating scabbards, and carving swords in wood, casting resin handles and a head.
Are there any other details or features you would like to highlight?
Despite its enormous weight, the armor is extremely comfortable, it does not restrict movement, you can fight in it, for example, in a medieval reconstruction, on a Larp or during a stage performance.
What are you most looking forward to about the final in London?
What I'm really looking forward to is having the opportunity to present the costume to a wider audience. I spent many months on it and I would like to present it on stage.
Comments
comments