Ever since Obi-Wan Kenobi first pulled back his hood to reveal himself in A New Hope, he's remained one of Star Wars' most iconic characters: a wise mentor to Luke Skywalker in the original trilogy, and a brash Jedi Knight (and later, Master) throughout the Prequel trilogy and the Clone Wars and Rebels animated shows.
Later this year, we'll see the character return once more to screens when Ewan McGregor dons the robes one more time to reprise his role as Obi-Wan for the upcoming miniseries, Obi-Wan Kenobi. Last week, Lucasfilm announced that the series would debut on Disney+ on March 25th.
With the character returning once again, we figured it would be a good time to take a look at how to put together his costume.
Which Obi-Wan to choose?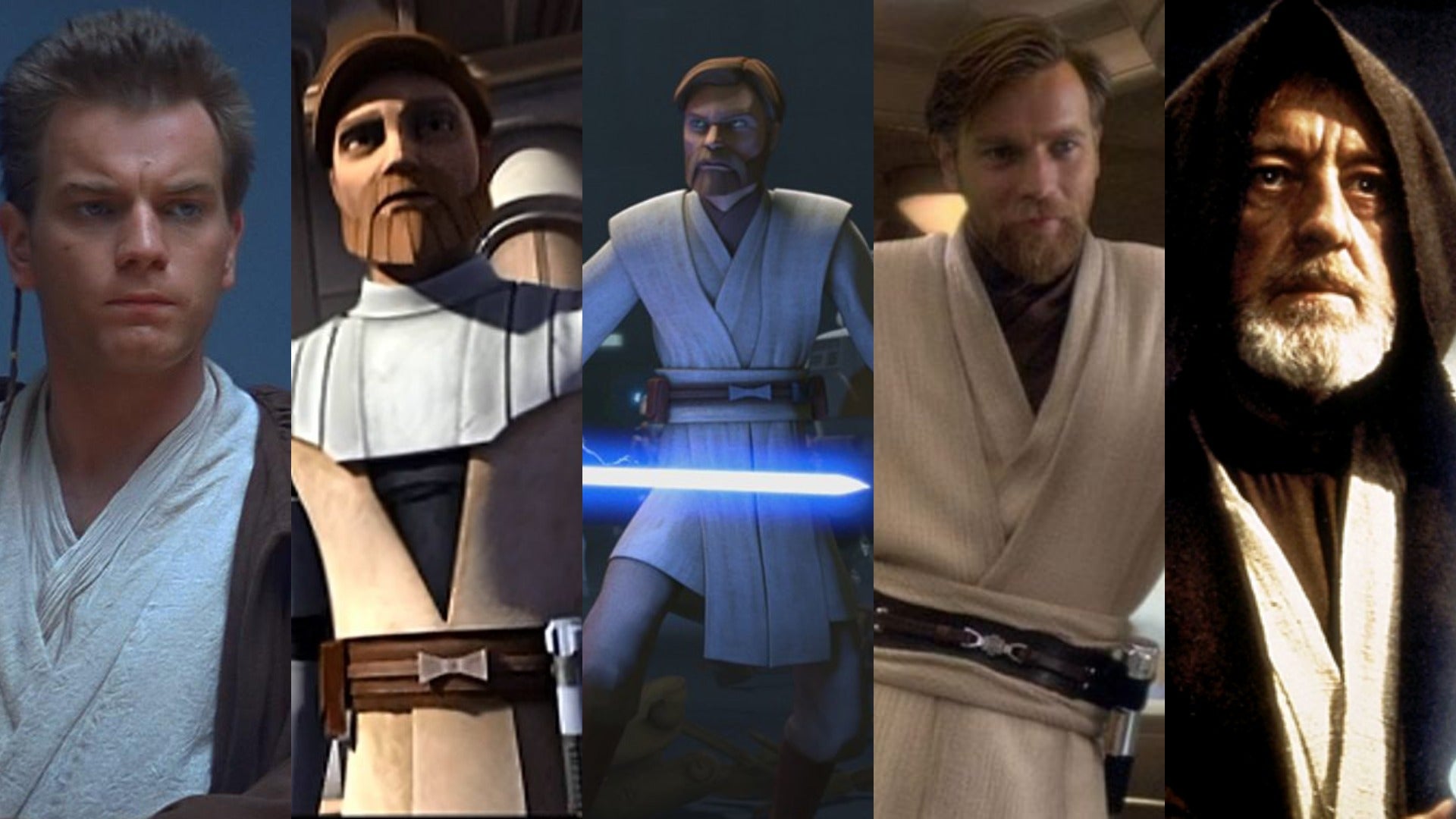 If you close your eyes and try and picture Obi-Wan, you can probably picture him in your mind: tan robes, dark brown, hooded cloak, boots, belt, and a lightsaber. But there are distinct versions of the character: there's the younger Padawan Obi-Wan as seen in The Phantom Menace, the much-older "Ben" Kenobi as seen in A New Hope, and a whole bunch of variations in between, each with their own quirks and differences.
A good place to start when it comes to Obi-Wan is the Rebel Legion, one of the biggest Star Wars costuming groups out there. It maintains a set of guides for a number of the character's variants, each of which contains a rundown of each component that the character requires.
The Basics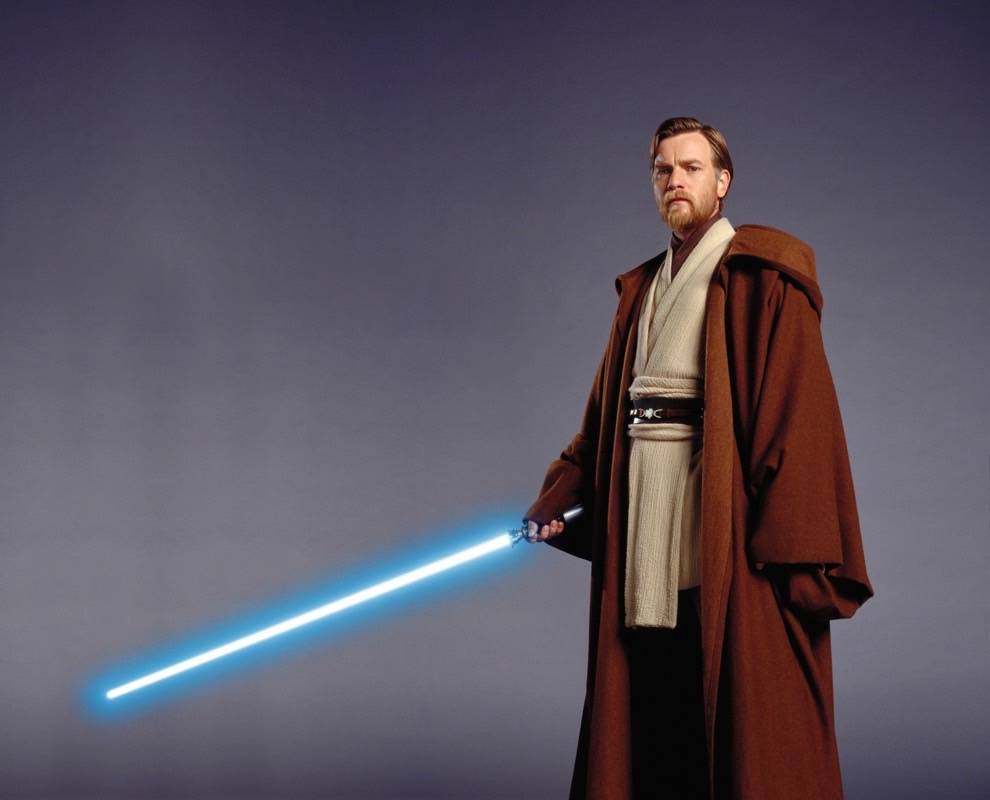 To get started with the costume, it's worth going all the way back to when Lucas envisioned the character. According to costume designer John Mollo in Star Wars Costumes: The Original Trilogy by Brandon Alinger, creator George Lucas originally envisioned the character as "partially samurai warrior and partly a sort of monk or priest," and accordingly, the early designs featured the character in robes and a utility belt. When it came time to design the actual costume for actor Sir Alec Guinness, Mollo modified a Russian Cossack-style shirt and a brown desert cloak. From there, Lucas asked that the costume be weathered and patched, as though it had actually spent a lifetime in the desert.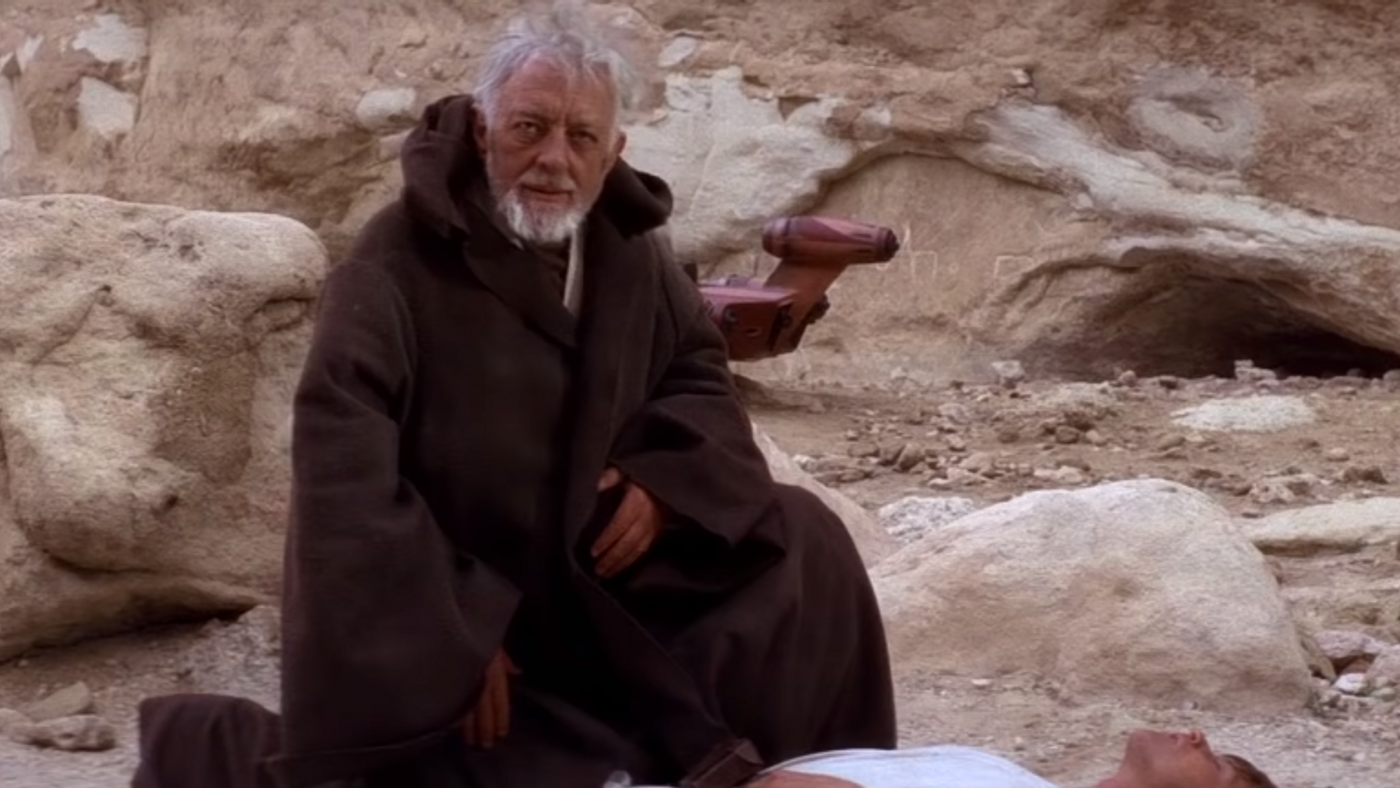 Interestingly, Mollo notes that he originally designed the costume to look like it was the garments of a hermit, rather than the uniform of an entire warrior/monk order. "His outfit seems to have turned into this sort of costume of the Jedi Knights," he observed. Indeed: any time we see the Jedi in the prequel era, they're wearing something similar.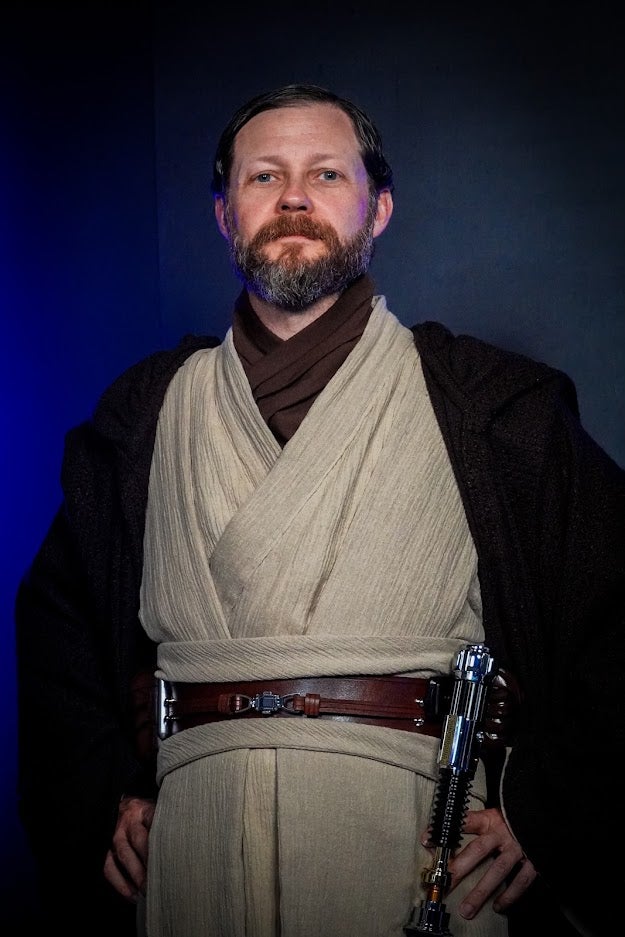 That classic costume is base up of a couple of basic elements: a beige, shoulder-to-feet tunic (for added accuracy, add in some hand-sewn darns) with tabards that's worn over a brown turtleneck-type shirt. At the waist is a beige sash (a Japanese belt called an "obi"), over which is worn a brown leather belt with a rectangular buckle with rounded corners. A brown leather pouch and lightsaber hang off the belt. He wears brown leather boots, and finishes it off with a brown wool cloak. The Rebel Legion also requires the costumer to have a white/grey beard.
Dan Celik of New England's Alderaan Base explained to me that he spends a considerable amount of time conducting research into the costume on the Rebel Legion forums. "I searched online archives that had photos of the screen used textile swatches and garments either on the rack or on display at the Star Wars traveling exhibit which was going around in the late 2000's," he wrote. He ended up putting together a Revenge of the Sith-style costume, because he was "always attracted to that particular chapter, era and the overall look of Kenobi as a whole."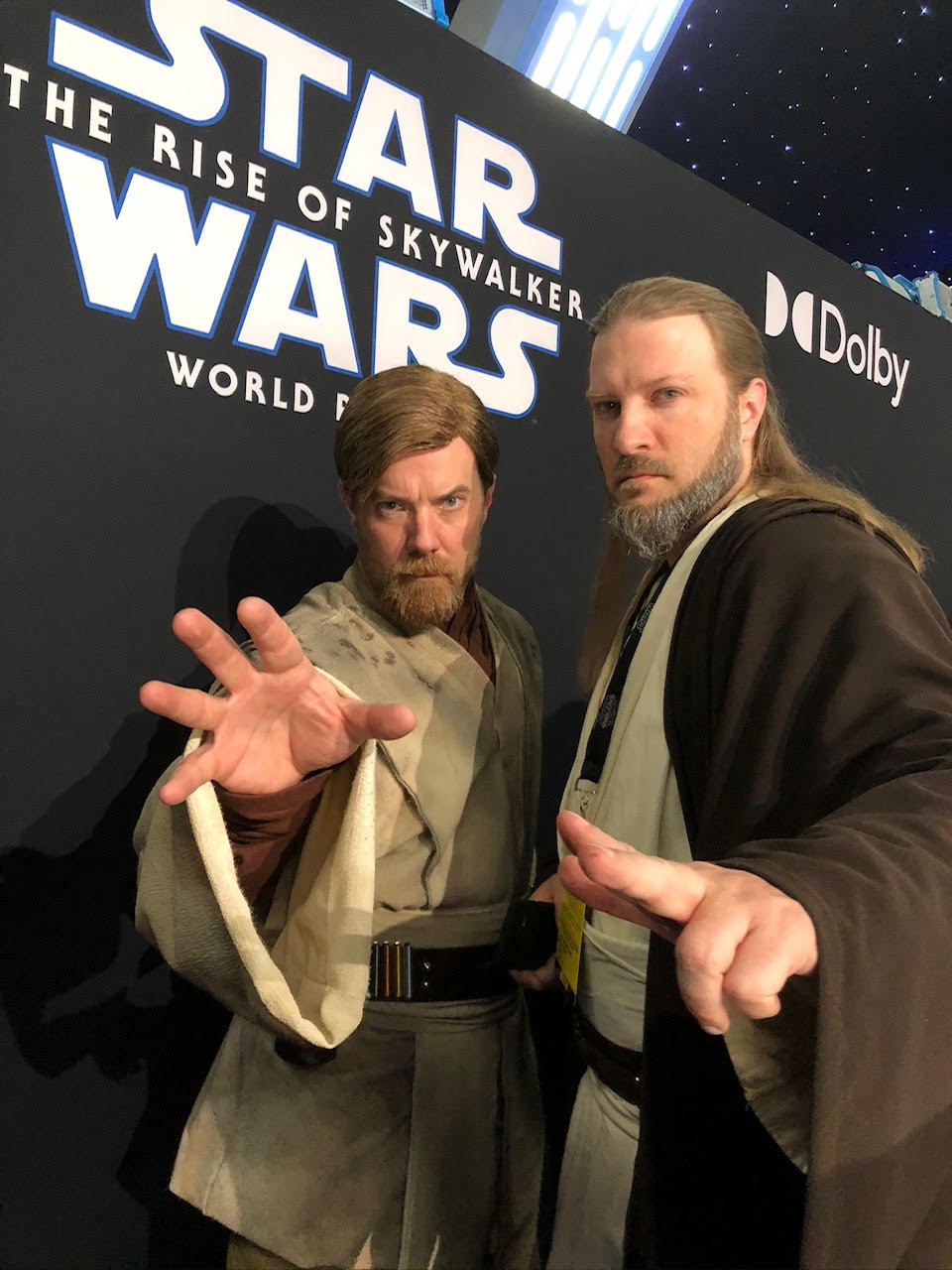 Another cosplayer, Brian Pitt, explained that he decided to give the character a try when someone came up to him at Comic-Con and said that he'd make a great Kenobi. "Later that night, I trimmed the beard to his shape, and started saying 'Hello there!' to myself over and over again."
Over on the Rebel Legion forums, user kdkdesign has a good breakdown on the types of fabric that they've found that closely matches what was used in the original film: a type of medium/heavy silk fabric with ribbing. Helpfully, the thread also provides a handful of images showing off where the costume needs to be darned. There's another good thread on the Replica Props Forum that shows off plenty of other detail shots of the original costume to reference.
The Prequels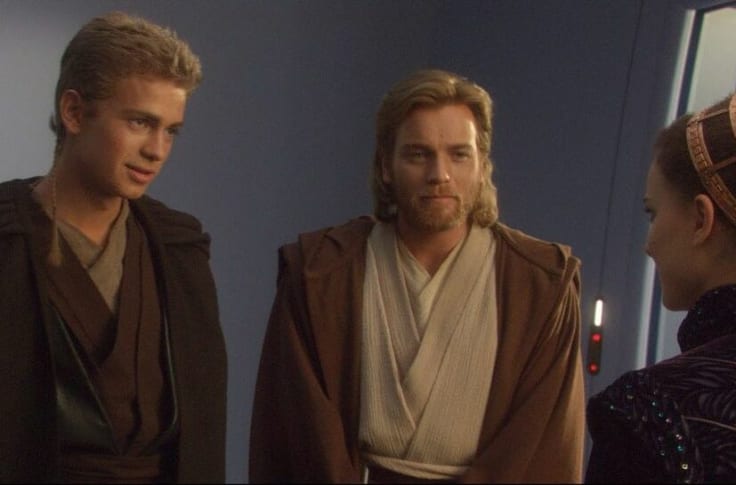 When it came time to tell a story that set up the original three films, George Lucas wound the clock back and placed Obi-Wan squarely in the middle of the story, showing off a younger version of the character.
The overall look of the character is similar to his older counterpart, although there are some significant differences: his tunic doesn't stretch down to his feet but ends a bit below his waist. The Rebel Legion's guide notes that his inner clothes are a khaki color, with an outer and inner tunic, and with tabards that are an inch or two longer than the tunic they cover. He wears Khaki pants and knee-high boots with spats, and straps at the ankle and calf. He's clean-shaven and wears a Padawan braid in his hair. He also wears a brown Jedi cloak.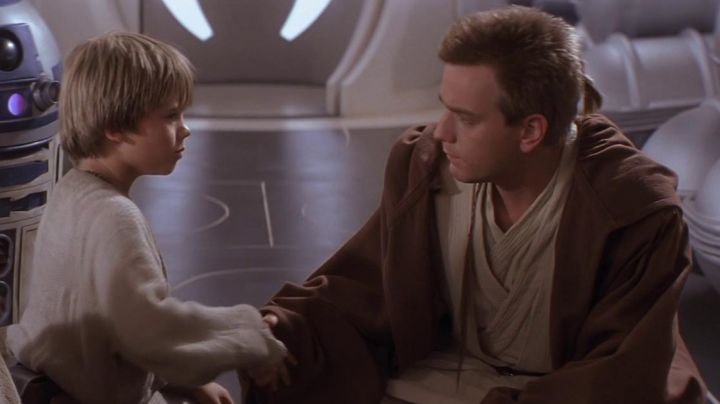 The biggest change here is Obi-Wan's belt: he wears an obi, over which is a wide leather utility belt with a narrower leather belt in the middle, with a small Covertec clip. The belt has three pouches (two narrow, one wide), and twelve food capsules (eight gold, four silver). Over on the Replica Props Forum, a user named Cantina_Dude put together a good thread detailing how he built his. The capsules are pretty easy to find: you can buy them at Star Wars Galaxy's Edge, or if you track down some Staedtler Liquid Roller Point Pens, you can repaint the caps to get a screen-accurate replica, according to Parts of Star Wars.
For Attack of the Clones, Obi-Wan's costume doesn't change all that much: the Rebel Legion notes that his tunic tabards are a little longer (they extend 3-5 inches below his outer tunic), his belt features twelve food capsules (bronze, gold, grey, and silver, three of each), three pouches (small, tall, and wide), and brown boots with spats, a strap at the ankle, and three straps at the calf. The Rebel Legion notes that the costume's color changes slightly: the inner tunic is no longer khaki, but beige, and the inner tunic is an off-white/khaki color. His pants remain a khaki color.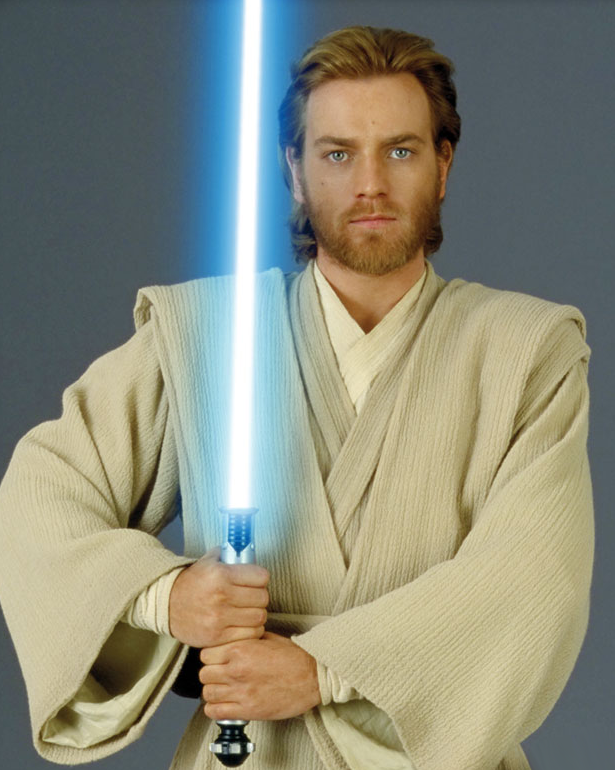 The biggest change for the character is his hair: he's grown it out from when we last saw him in TPM, and he has a beard.
Finally, in Revenge of the Sith, the Rebel Legion points out that the inner tunic is once again beige, but the inner tunic is now a dark brown and the pants are darker khaki or mustard color. The belt remains much the same, with some slight differences (eight food capsules: bronze, gold, grey, and silver, two of each), three pouches (small and two tall), a rectangular pouch with a grappling hook, and knee-high boots with spats and a single strap at the ankle. Like in Attack of the Clones, his hair is longer and he has a beard. His tunic in this film is a bit more of a reddish brown than the darker, chocolate brown that it'll be in his later years.
Celik noted that this was the version he focused on and pointed out that there's some specific types of fabric that he used to get the look right: cotton gauze. "Only when it is washed does it get that distinctive, 'crinkled' look that Kenobi has in the film," he explained. "The color was specifically a beige / sand dyed from a natural off-white. I used a 300-gram weight, cotton gauze, and used two layers to give it the proper feel and weight of the tunic."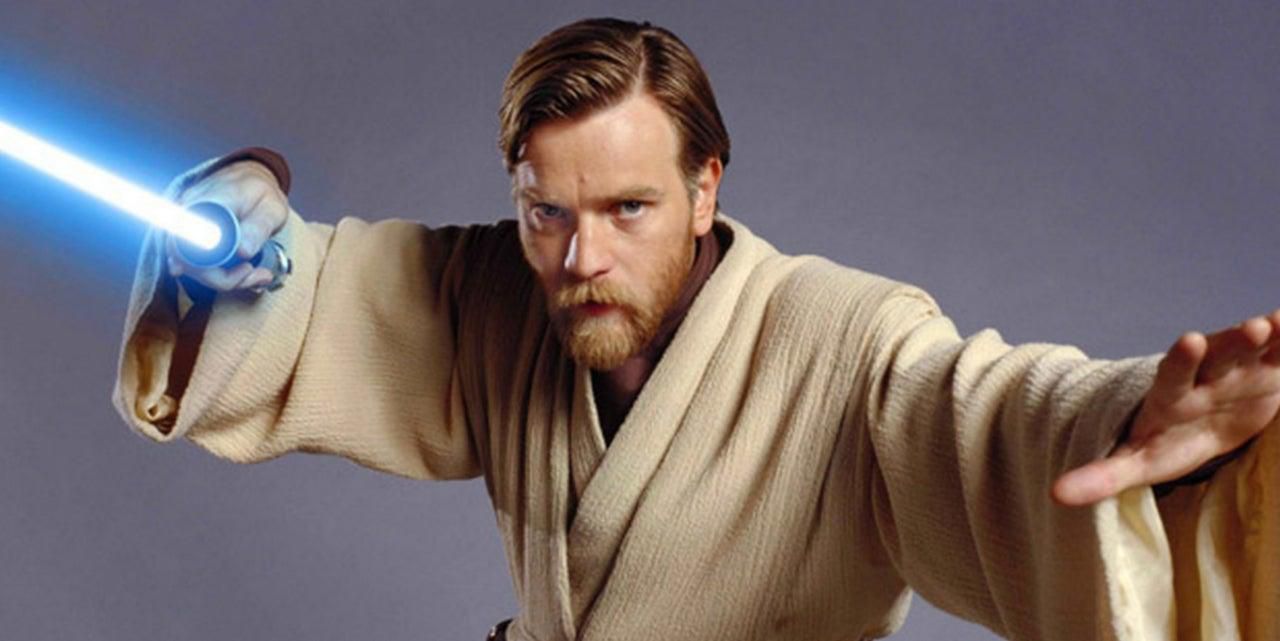 Like Celik, Pitt explained that he spent a lot of time researching the character before digging in: he ended up going to Etsy to order a couple of components and looked through local thrift stores to try and find some of the right items. "I read an article that they used a "Dickie's" brand of pants and found a pair to use in correct color." From there, made the inner tunic from a long sleeve, brown v-neck shirt and sewed a pleated brown fabric onto the neck area. Wanting to replicate the look of a post-Anakin Skywalker duel version of the character, he "weathered the costume by putting it on a dummy and then used a torch to lightly burn areas, then hit areas here and there with spray paint colors like flat black, brown, tan, until I was satisfied with the look."
Pitt explained that the boots were probably the most difficult element for him to put together: some sellers will sell extremely accurate ones for hundreds of dollars, and he didn't want to spend that much. "I made my boots from some Polo boots that had a zipper in the front on Amazon," he said. "I had to strip them down from a chocolate brown and re-dye them to a reddish brown as his boots are hard to come by," and he "made the straps and front shin piece from scrap vegan leather and dyed it match. The DIY of it took a lot of time / stripping / dying / repeat until I could get them close enough to pass [for approval.]
Animated Versions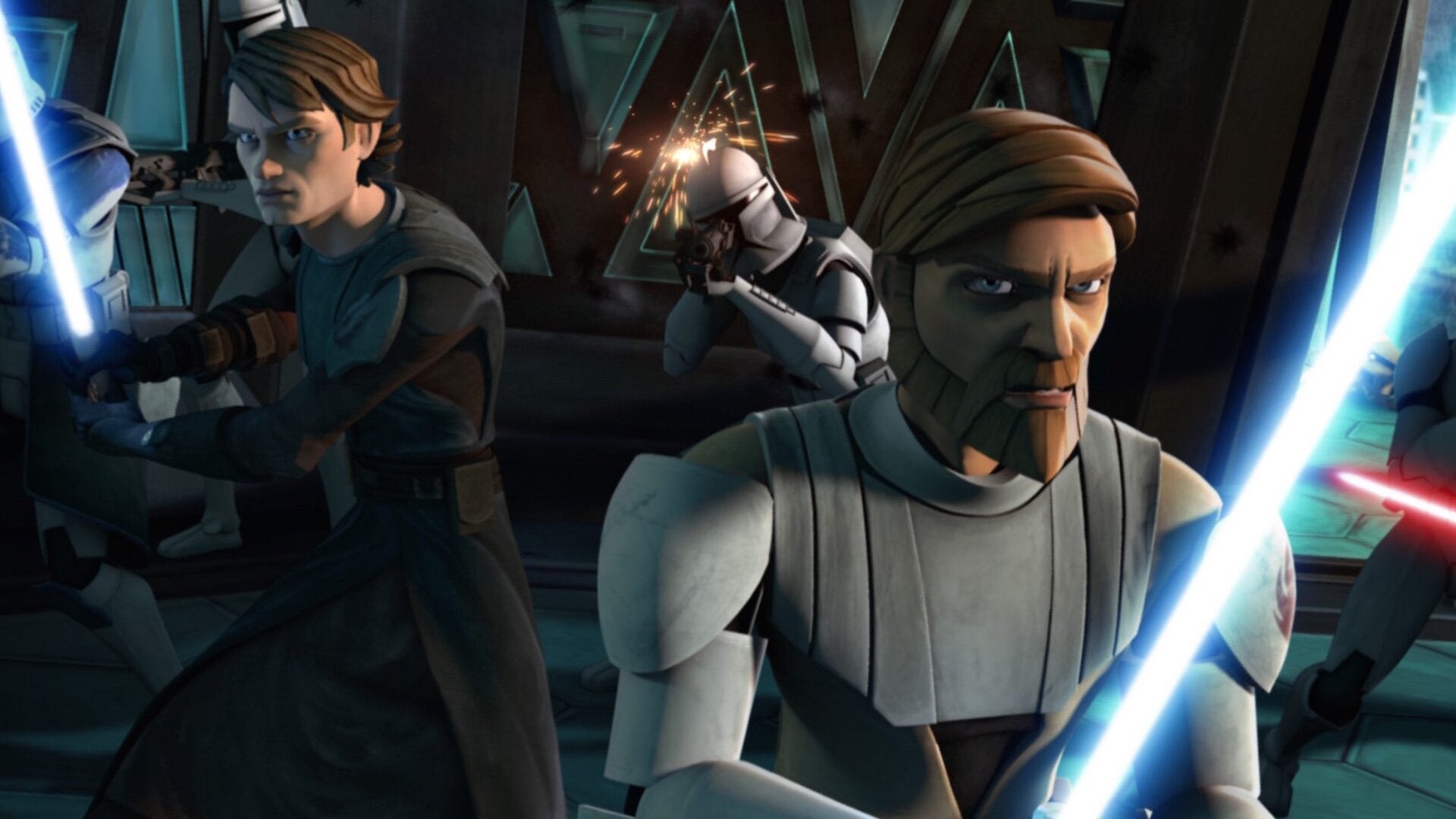 Obi-Wan doesn't just appear in the live-action films: he's also a staple in the studio's animated projects as well.
The first such show was the Cartoon Network series from Genndy Tartakovsky, which featured a stylized design based on the Attack of the Clones version of the character. The Rebel Legion has two versions: v1 and v2, each with some differences. Unlike in the films, Obi-Wan augments his outfit with a suit of clone trooper armor, over which he wears a brown undersuit, and a cape with tabards that are held in place by two white discs on his chest. This is a pretty complicated version of the costume, and it's worth checking out the 501st Legion's guide to clone troopers.
The second version of the costume is a bit simpler, although he retains a bunch of armored pieces: it includes the chest, elbows, forearms, hands, knees, shins, belt, and boots), over which he has a sleeveless tan tunic, brown undersuit, and cloak.
When Lucasfilm launched its other animated Clone Wars series in 2009, they carried over some of those same design elements, but in a slightly simpler fashion. When the series starts out, he's still wearing some armor: he's got clone trooper hand plates, forearms, elbows, and biceps, as well as an armored chest/shoulder piece. On his legs, he's wearing the shin and knee plates that the clones wear.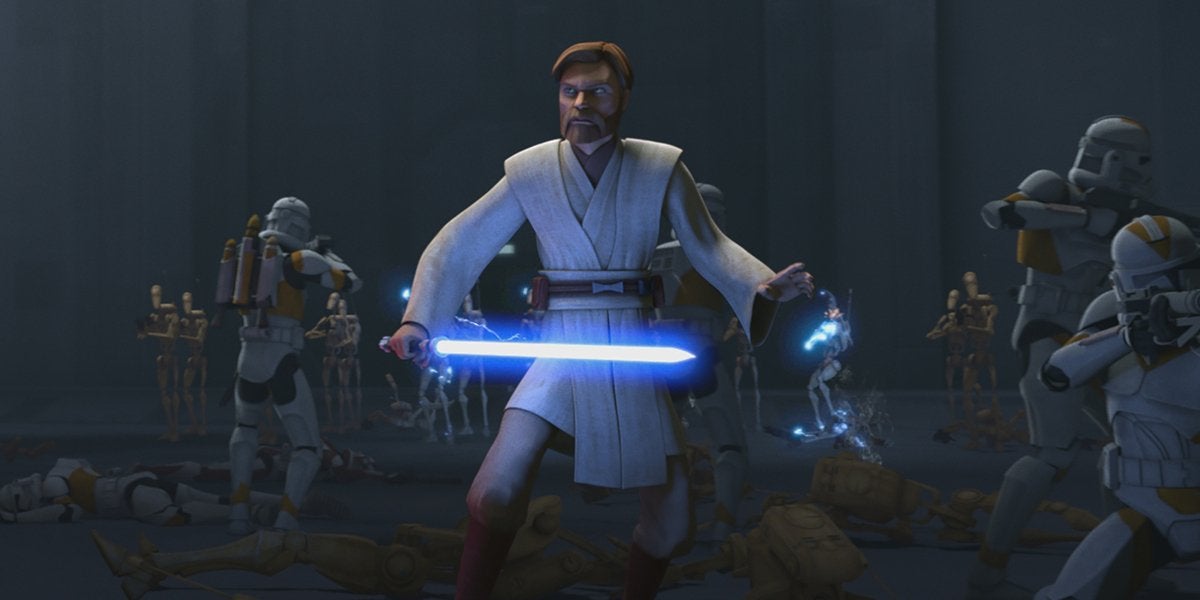 From there, he's wearing a tan outer tunic that stretches to his knees, a single tabard that extends from waist to knees, a brown obi, black undersuit, brown belt with two pouches. Here, he's traded out his brown boots for white clone shoes. He also has his familiar brown cloak.
Later in the season, Obi-Wan switches out his outfit a bit, something that's quite a bit closer to what we see in Revenge of the Sith. He's still got some armor: clone trooper forearms (they're white, the right one has a logo on it, the left one has a commlink, and are weathered), but his outer tunic is tan that extends to his mid-thigh, a brown inner tunic, and two tabards that extend from obi to the bottom of the outer tunic. He's back to wearing khaki pants, has a dark brown belt (wide, with an inner belt, silver bow-tie-style buckle), and three pouches (two tall animated-style, one large Revenge of the Sith-style pouch, and brown boots with spats, and a strap at the ankle, like in ROTS. And of course, there's the brown cloak.
For bonus points, there's a series of episodes where Obi-Wan suits up as a Mandalorian super commando. I won't go into the details here (the Rebel Legion's guide has all the requirements), but it's essentially a Mandalorian costume with the same longer hair and beard, as well as his lightsaber.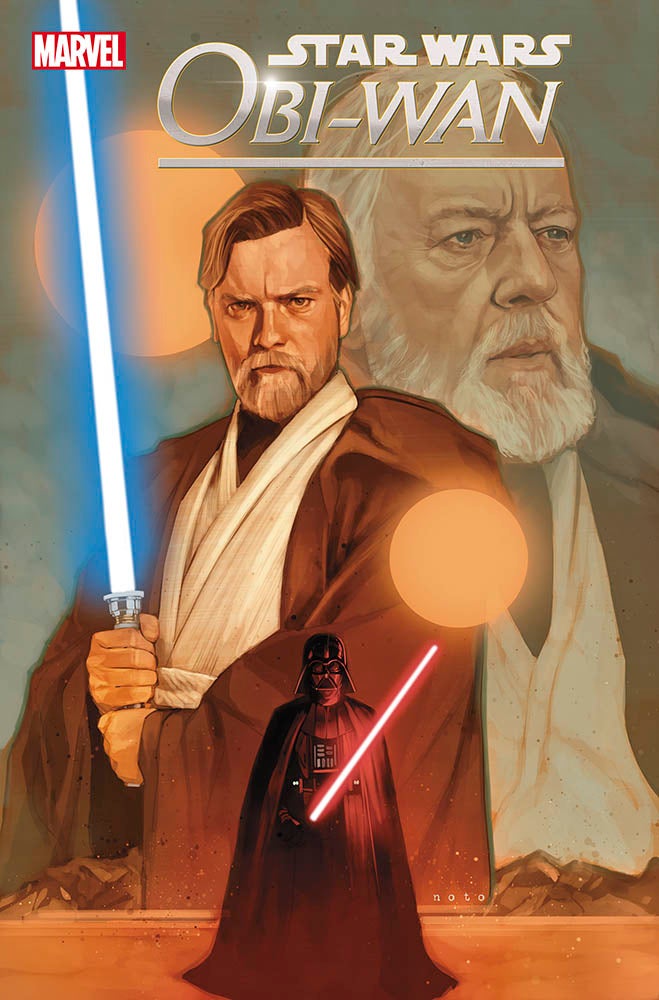 There's also been some other random versions that seem like they're ripe for costuming. In 2017, Sideshow produced a Mythos Obi-Wan figure that imagined what he might look like a couple of years into his time on Tatooine. Many of the familiar components are there: sleeveless brown robe, ROTS-style tunics, ANH-style belt, along with some knee-high boots, sand googles, and a backpack with some of his old Clone Wars-era armor, a Tusken raider cycler rifle, and some other doo-dads. Notably, he's got two lightsabers: his own, and Anakin Skywalker's, which he'd eventually hand off to Luke.
And earlier this month, Marvel announced a comic series called Star Wars: Obi-Wan, which features the character going up against Krrsantan, the Wookie recently seen in The Book of Boba Fett. A thumbnail shows off another version of the costume: familiar tan/beige tunic, weathered brown cloak, knee-high boots, and khaki/mustard pants.
Lightsaber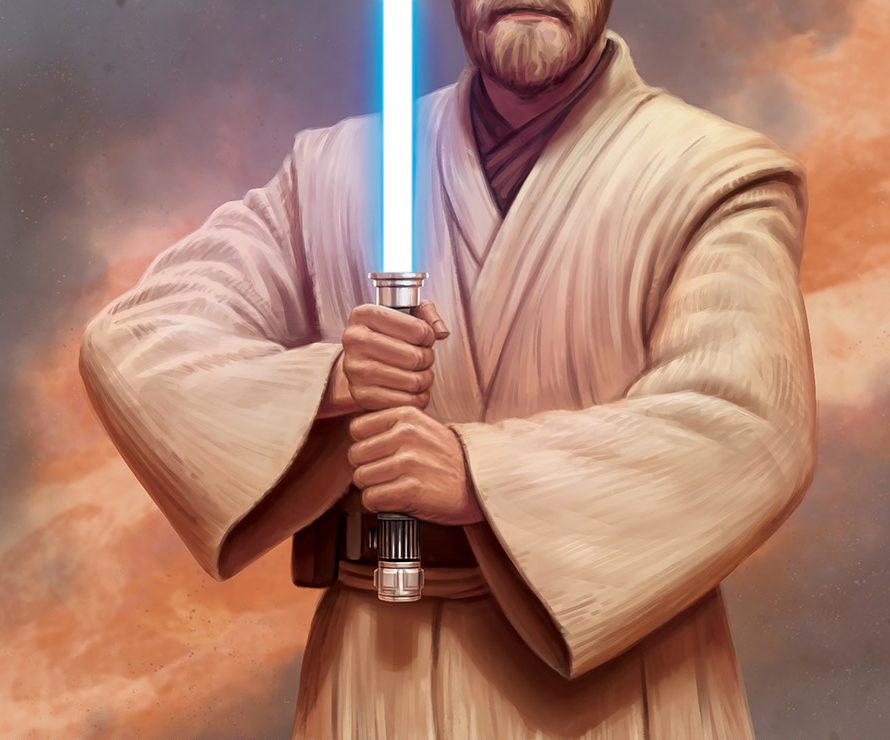 Speaking of lightsabers: as the costume changes over the course of the films, so too does his lightsaber: he has three versions over the years, as outlined by StarWars.com's databank. "The lightsaber makes the character," Celik explained. "Without that specific piece one would be lost in the explanation why they did not have a lightsaber."
The first appears in The Phantom Menace: a silver-and-black hilt that he loses during his fight with Darth Maul. In Attack of the Clones, he's replaced it with a similar version. In Revenge of the Sith, he has a new one with a very different style that resembles Luke Skywalkers' second saber as seen in Return of the Jedi. This is also the one that he has in A New Hope.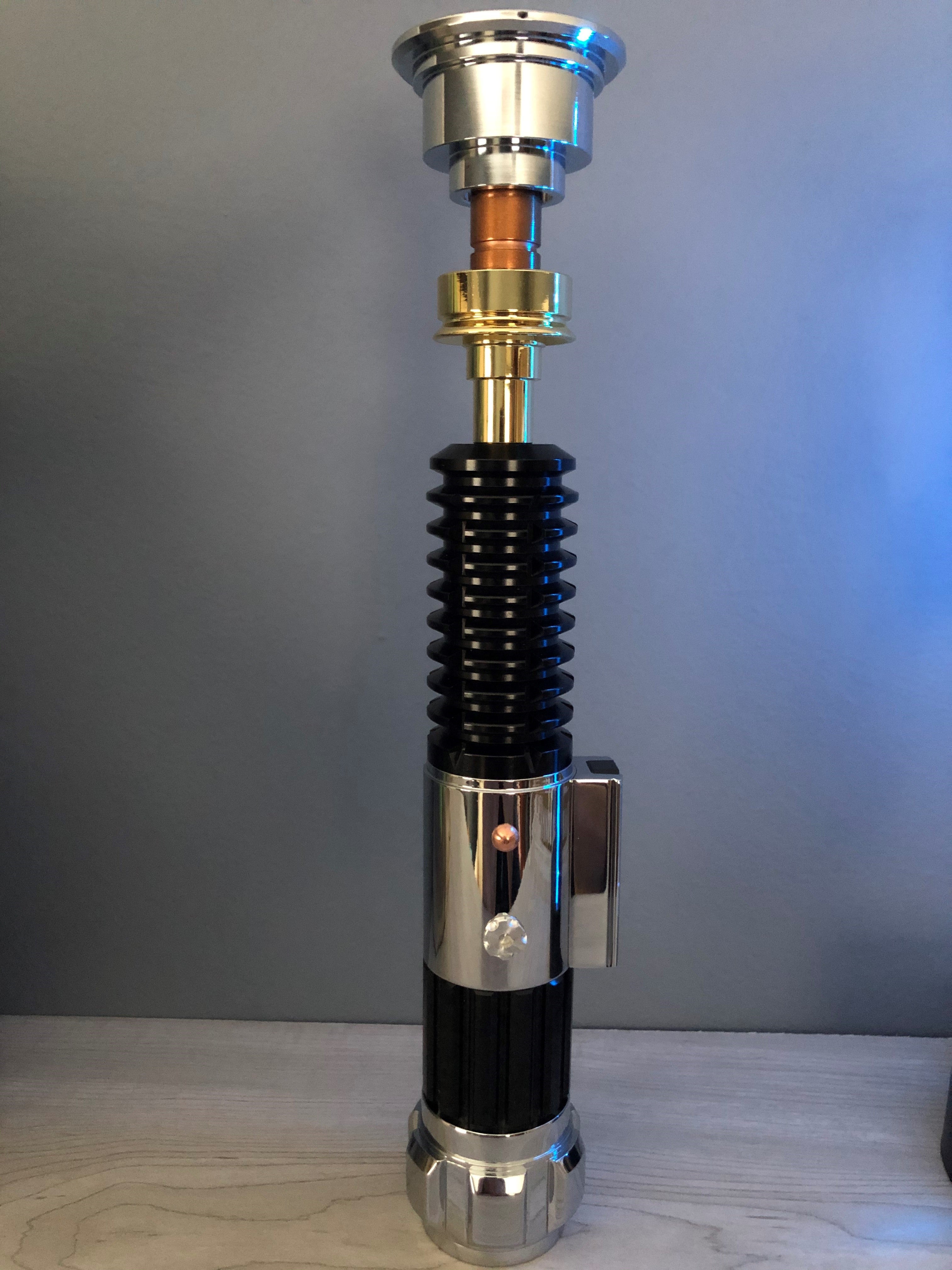 Celik noted that he picked his up from an outfit called Roman Props, which "has the same parts used by the actors on screen. Roman used the same brushed brass, chromed, copper and blackened finishes. Each section is threaded so it is easy to take apart and gives it a weight of a real hilt. Most hilts are made of milled aluminum making them very light-this one however, is different and gives one a feel of what a Jedi hilt should feel like."
There are a whole bunch of places where you can find a replica: ShopDisney had sold an off-the-shelf version of Obi-Wan's Phantom Menace hilt, while Hasbro sold both Phantom Menace and A New Hope versions in its Force FX line. (Both seem to be discontinued, but you might be able to find one on the secondary market, although it'll cost you.) For his saber, Pitt located a Black Series hilt and "converted it to Neopixel myself."
There are some other options here: you can find models for all of Obi-Wan's styles of lightsabers on Thingiverse, and there are fan makers within the Star Wars maker community that can likely machine one out of metal for you if you'd like something a little weightier in your hand.
The Performance and Appearance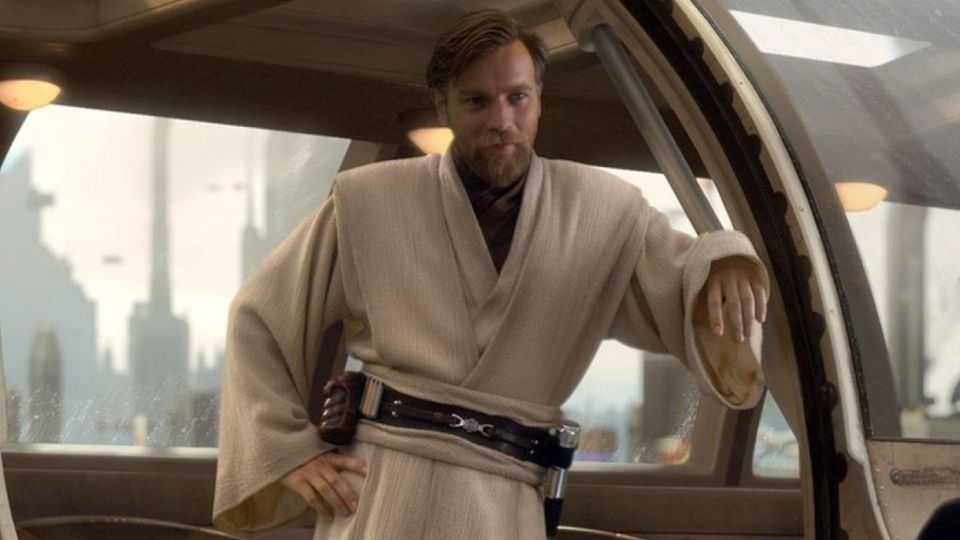 Finally, like any costume, there's a performative element to the character. Both Celik and Pitt explained that practicing Guinness and McGregor's accent is helpful for bringing the character to life. "I take some of Kenobi's wit that came through in the Clone Wars series," Celik explained, "along with the one liner quotes like, 'hello there' or 'Sith lords are our specialty' that Ewan McGregor used in the film."
Pitt echoed that, noting that "Hello there!" is an instantly recognizable catch phrase for the character. He also pointed out that paying attention to the beard is also useful — he'd take the time to grow his out, noting that his goatee is a little longer than the sides, and would touch it up prior to an event.
Obi-Wan Kenobi: The series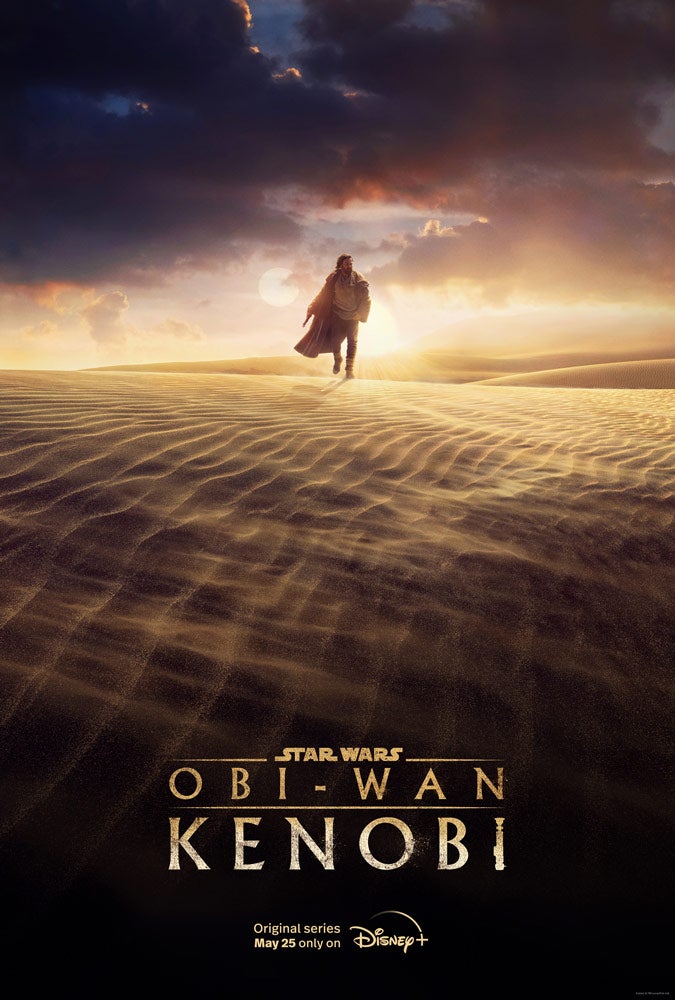 This May, we'll have a whole new version of Obi-Wan to check out. The poster provided us with a first glimpse of the character's outfit, and it looks like we're in for a bit of a different look. He's got the brown cloak, but his tunic looks as though it's a slightly different style than what we've seen before, he's wearing brownish pants, brown boots, with what look like coverings on his ankles.
Both Celik and Pitt noted that they were pumped for the series. "It will be great to see a side of Kenobi that we haven't seen yet," Pitt explained. "The Jedi Outcast/hiding from the empire, trying to survive, and dealing with PTSD all at the same time. I'm excited!"
"I cannot wait," Celik said. "This new series has me excited because there will be a whole new generation seeing Kenobi, possibly for the first time and I look forward to the development of the character."
Hopefully, we'll get a trailer for the series before too much longer, where we'll get to see what the next iteration of the character will look like.
Obi-Wan Kenobi streams on Disney Plus starting May 27th, 2022.
This post is from https://www.cosplaycentral.com/topics/cosplay/guide/how-to-make-an-obi-wan-cosplay-to-prepare-for-the-kenobi-series
Comments
comments