Leia's Gold Metal Bikini: High Quality Guide
Any Star Wars fan will know of the infamous gold metal bikini costume which Princess Leia Organa wore in the film Return of the Jedi. After being captured by the bloated crime lord Jabba the Hutt, Leia is made to wear this, and since the original release of the film, the costume has taken on a massive fan following.
Star Wars enthusiasts around the world don their Slave Leia attire at sci-fi conventions, and it even sparked the creation of a huge fan website called "Leia's Metal Bikini". Although the costume has raised, controversy, it still remains a top choice for Star Wars fans at any cosplay event or party.
In our cosplay guide, you will learn how to dress up as Leia Organa in her gold metal bikini.
Cosplay Examples
Go Go Cosplay!Slave Leia CosplayFollow On
How to Dress Like Slave Leia Organa
Hair:
Leia's hair is very long, dark brown and braided, and this braid is coiled slightly behind her head where it droops down over her shoulder. You can dye your hair and braid it to get the same style, or you can wear a long dark brown wig.
Check out Halloween stores and retail websites for the right wig, and purchase some brown hair elastics as well to keep your braid in place. If you're unsure how to style your hair in Leia's braid, watch a Slave Leia hairstyle video tutorial to get the hang of it.
Slave Leia Hair Tutorial: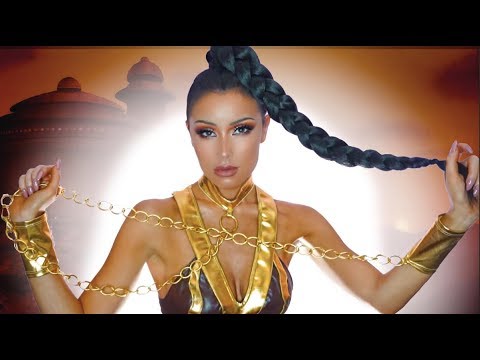 Makeup:
In Jabba's lair, Leia is depicted wearing a light peach or red colored lipstick. You can buy lipstick from most retail websites and cosmetics shops.
Gold Metal Bikini:
Originally worn by actress Carrie Fisher, the costume consists of a brass bikini-style top which ties around the neck and back of the wearer to hold it in place, brass arm cuffs, a matching brass thong and long red veils attached to the front and back of it.
You can purchase the parts for this costume online from costume shops and Halloween stores, or you can make your own costume using fabric and craft supplies like steel and EVA foam.
Accessories:
Slave Leia wears leather boots that almost look like long moccasins. These may come with the costume if you purchase a pre-made one, or you can search for similar boots on retail websites and at costume shops. The boots are a grayish color with gold accents coiling up at the front ankles.
Jabba the Hutt:
Leia wears this costume when captured by Jabba the Hutt. While initially he makes her wear it in an attempt to humiliate her, she rises above him with her strong will and attitude.
Get a friend to dress up as Jabba the Hutt or purchase a plush toy Jabba the Hutt to carry around with you for an extra detail to your costume! You can buy stuffed toy Star Wars characters from most retail websites and toy stores.
Comments
comments